Alumalite panels, acrylic paint, vinyl printing, and LED lighting
Local artist Janel Young was selected as the first artist in the Bakery Square Public Art Program, which places an artist in residency with local PPS Lincoln PreK-5 and the Urban Academy of Greater Pittsburgh to produce a temporary public art piece located in the heart of Bakery Square's campus for a 6-month period of time.
The imagery shown in the artwork stems from Janel's work with 2nd, 4th, and 5th grade students of the schools.

The text "one community" is depicted on the left panel, and an anonymous "superhero" figure on the right.
Janel asked the students to name what parts of their community are important to them. She then asked them to name their own superpowers and how they would protect their community with those powers, if they could.
---
From the artist:
The community hero holds a light – holding the places, spaces and things that are loved, appreciated, adored in the community. Looking to the horizon; representing hope, positivity and a path forward.

The cape is the primary focus; it directly expresses what the kids in the community believe will change their world and ways they see themselves contributing. My signature tribal symbols equate to themes of community and togetherness.
To commemorate the inaugural art piece in Bakery Square's Public Art Program, Heros on the Horizon has been permanently relocated to Bakery Square's South Garage at the ground level. Be sure to stop by to see the permanent installation!

---

More about Janel Young: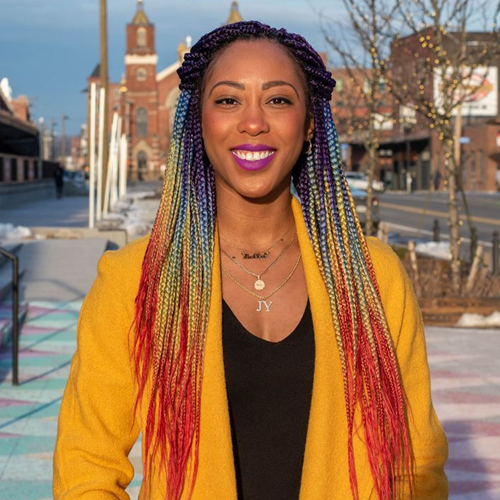 Janel Young is a Pittsburgh-raised artist who further developed her work in New York City over the course of five years, focusing on murals, abstract, and landscape works. Her style contains blending, bright colors and geometric inspiration. She found a love for painting after being selected as part of a mural painting team in seventh grade, and later completed an International Baccalaureate art program in 2009. She moved to New York in 2013 after graduating from Penn State University (B.S. Marketing and International Studies) and held onto art for self-therapy, expression and activism. Young returned to her hometown in 2019 after transitioning into her full-time artist practice to complete Pittsburgh's first art basketball court: The Home Court Advantage Project
Janel's artwork has been recognized locally and internationally, including being awarded a proclamation by the City of Pittsburgh, within AfroPunk.com, The Apollo Theatre, Ebony Magazine, at the 2020 U.S. Open Tennis Tournament, Verizon Media, Yahoo.com, the Carnegie Library of Pittsburgh and RAW Artists shows in New York City and Sydney, Australia.