printed metal panels, video projection
Larimer Caryatids by Brighton Heights native Lori Hepner is inspired by the light-painting residencies held with two classes of 5th graders at Lincoln Elementary and a class of 4th graders at Urban Academy in Larimer. The students created real-time silhouette portraits of each other while also using hand-held LEDs to make drawings at the same time during Hepner's artist residency.
Hepner used these portraits in the creation of the murals and was inspired to create contemporary Caryatids, referring to the architecture of ancient Greece and the goddesses used as architectural columns in many Greek temples that still stand today.

Plaster casts of the Greek Caryatids exist locally at the Carnegie Museum's Hall of Architecture, where the artist herself took Art Connection classes in elementary school that met each Saturday morning. In the evenings, a video projection of the students drawing with light is viewable to the right of the murals.

Larimer Caryatids was relocated December 2021.

---
From the artist:
I had a great experience with the kids. It is fun to see the students recognize their silhouettes. They look like they are dancing.
The project consists of two murals printed on a series of Metal Prints hung using cylindrical metal stand offs in holes at the corner of each panel. The walls behind the panels were painted a cool blueish gray. An accompanying video was rear projected onto the windows of a an adjacent storefront, from its indoor raw space behind them. This was a non-narrative, silent, looping video piece that enhanced the nighttime presence of the panels.
---

More about Lori Hepner: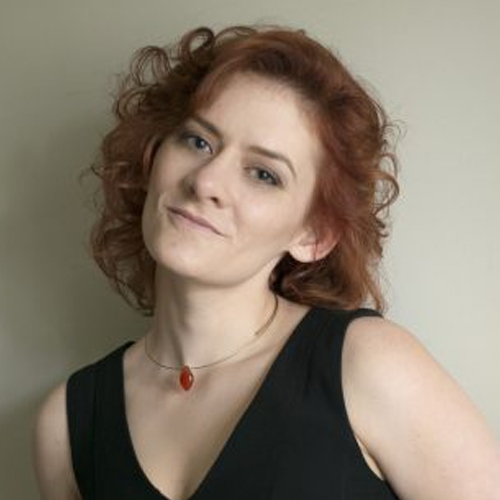 Lori Hepner is a Pittsburgh based new media artist working primarily in new media performance, fine art photography, and community centered public art projects. She has spent considerable time over the last five years in community centered artist residencies in two Pittsburgh neighborhoods, in a small Arctic Community in coastal Norway, as well as residencies in Finland, Iceland, and the Canadian Yukon. Lori was featured in the WQED documentary, Visible, featuring five female artists from Pittsburgh, in Spring 2018.
A collaboration with singer Kendra Ross has manifested itself into live performance as Hepner & Ross in Intersection*ology, which has been awarded grants by the Heinz Endowments, the 2018 Carnegie International, and The Opportunity Fund. They have performed in Durban, South Africa, Richmond, Virginia, San Antonio, Texas, and Pittsburgh. Lori's personal photographic work has been featured in Time Magazine, Wired, and Next Level Magazine and has been exhibited at the Houston Center for Photography, Carnegie Museum of Art, the Brooklyn Museum, in photo festivals in the Netherlands, China, & Spain. One of her Twitter portraits from Status Symbols, as well as her performative photographs from #Crowdsourced Landscapes project, will be sent to live on the moon in 2021 in the mini-museum that is the MoonArk.
Hepner holds an MFA in Digital Media from Rhode Island School of Design and a BFA in Fine Art Photography from Rochester Institute of Technology. She is a Professor of Integrative Arts at Penn State University's Greater Allegheny campus.