Mixed Media (painted panels, plexiglas, dibond, led lights)
Sandy Kessler Kaminski, a local mixed-media artist, created her circuitscape titled URBAN in residence with 4th and 5th grade students from Lincoln Elementary and Urban Academy where they discussed what their neighborhoods look like and how they move through them. Transportation and the natural world were discussion points. A connection to the land is evident in the work.


The art demonstrates the relentless push and pull of man and the natural world.


Using maps, plans and designs of the past, she dreams of futuristic cities and how to adapt the ones we have. Always observing people and animals response to the changing environment, art becomes the mirror revealing the world around us and becomes a guide to living in harmony.
---
From the artist:
I believe in the power of art to inspire hope and compassion. I have been exploring the intersection between technology and nature with humanity as the facilitator.
---

More about Sandy Kessler Kaminski: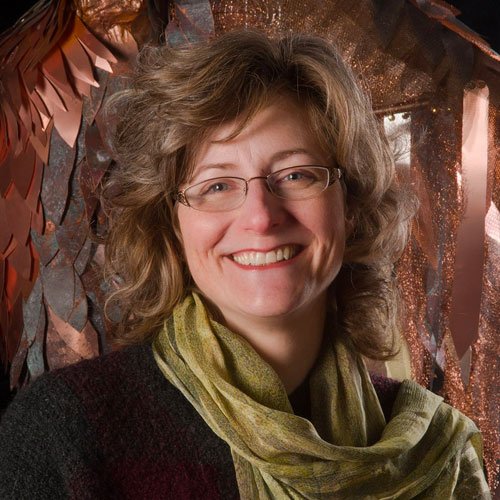 Sandy Kessler Kaminski's diverse work has been collected privately and displayed publicly for over 20 years. Her work varies from interactive microprocessor driven works to more passive paintings, murals, drawings and sculptures.

Selected community inspired works include: Welcome to the Strip (Sprout Fund), It's in the Attic (Millvale),
Sun and Planets in Riverview Park (Art in Parks), Robots Going to Read (Art Excursions LLC), Negro
League, (The Pittsburgh Project), Lantern (National Endowment for the Arts), LISTEN! The North Side
Girls Have Something to Say! (Changemakers) A Path to Peace, (Children's Museum of Pittsburgh), Time Travelers (Edith Abeyta, Trying Together and City of Pittsburgh).

In addition to various public and community-based works in Pittsburgh, Ms Kessler Kaminski has exhibited nationally; Columbus Ohio, Corpus Christi, Texas, Kansas City, Kansas and won the Docent Award in Art of The State exhibition 2022 in Harrisburg, Pennsylvania. My residencies include Hazelwood, Rivers of Steel as an Alloy artist, and Artist-in-Residence at Shenandoah National Park, Virgina. Sandy's artwork can be found in several collections including, The United States Department of the Interior, Carnegie Mellon University, Magee Women's Hospital, Dick Blick Art Supply LLC, WEBB Law, Del Monte, Citizen's Bank, The Public Employees Retirement System for the State of Ohio, Ohio State University, Asbury Automotive, and Austin Peay State University, to name a few.